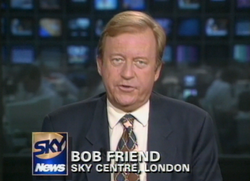 Bob Friend (20 January 1938 – 8 October 2008) was one of the original news anchors for the Sky News channel from its launch in 1989 until his retirement in late 2003.
Friend portrayed as himself in Independence Day in which he covers the disastrous events of Operation Welcome Wagon. He gives words of condolences to the pilots who died, "And our prayers go out to the wives and children of those brave pilots, indeed, God help us all."
External links
Edit
Ad blocker interference detected!
Wikia is a free-to-use site that makes money from advertising. We have a modified experience for viewers using ad blockers

Wikia is not accessible if you've made further modifications. Remove the custom ad blocker rule(s) and the page will load as expected.