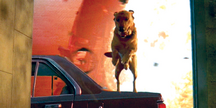 Boomer is the family Labrador Retriever of Steven Hiller, Jasmine Dubrow, and Dylan Dubrow-Hiller.
Behind the Scenes
Edit
Boomer's narrow escape was a very late addition to the city destruction scene, with the dog filmed against a bluescreen and a miniature tunnel and cars composited behind him.
According to director Roland Emmerich Boomer is alive and well in a upstate farm.
Ad blocker interference detected!
Wikia is a free-to-use site that makes money from advertising. We have a modified experience for viewers using ad blockers

Wikia is not accessible if you've made further modifications. Remove the custom ad blocker rule(s) and the page will load as expected.