El Toro

El Toro destroyed.
Description
Type
Military base
Location
Orange County, California
Events
War of 1996

Marine Corps Air Station El Toro, also known as El Toro, was a United States Marine Corps Air Station located near Irvine, California.
El Toro was attacked and destroyed by the aliens during the War of 1996. Steven Hiller was stationed here as a captain of the Black Knights squadron. Jasmine and Dylan Dubrow tried to reach to El Toro to meet with Steven, but only to find the base in ruins. Steven would eventually take a helicopter from Area 51 and fly to El Toro in desperate hope to find Jasmine and Dylan. There he found them in the ruins of the base along with several survivors, including the First Lady Marilyn Whitmore.
Behind the Scenes
Edit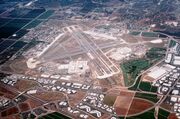 In real life, El Toro was built in 1942 and was in use during the film release of Independence Day in 1996. It was decommissioned in 1999. Incidentally, El Toro shares the same name as the air base from The War of the Worlds (1953) in which the Flying Wing Bomber flew out of to drop the A-bomb on the Martians.
During the film making, Wendover Airport doubled for the El Toro and Area 51 exteriors.
The planes depicted in the El Toro attack scene are not blown up as they were rented for the film. Because of this, practical effects supervisor Clay Pinney and his crew had to rig the series of explosions on location so that none of the planes were damaged.
The shot of the destroyed El Toro had miniatures and a painting composited behind a section of chain link fence shot against bluescreen.
F-14 Tomcats are depicted in El Toro. This is an error, as the F-14 is a U.S. Navy aircraft that is meant for carrier operations.