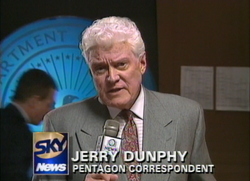 Jerry Dunphy (June 9, 1921 – May 20, 2002) was an American television news anchor in the Los Angeles/Southern California media market.
Dunphy portrayed as himself in the 1996 film Independence Day in which he is first seen as a Pentagon correspondent and reports on the City Destroyers that appeared over Earth's capital cities, the U.S. military's position on using whatever contingency they consider, and noticing that the vessels seems to be appearing in the planet's northern hemisphere.
External links
Edit
Ad blocker interference detected!
Wikia is a free-to-use site that makes money from advertising. We have a modified experience for viewers using ad blockers

Wikia is not accessible if you've made further modifications. Remove the custom ad blocker rule(s) and the page will load as expected.