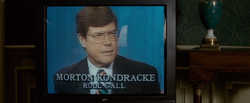 Morton Kondracke (born April 28, 1939) is an American political commentator and journalist. He became well known due to a long stint as a panelist on The McLaughlin Group.
Kondracke portrayed as himself in Independence Day and appears in the beginning of the movie on the morning talk show The McLaughlin Group speaking about the ineffectual leadership of President Thomas J. Whitmore saying, "Leadership as a pilot in the Gulf War has no relationship to political leadership. It's a different animal."
External links
Edit
Ad blocker interference detected!
Wikia is a free-to-use site that makes money from advertising. We have a modified experience for viewers using ad blockers

Wikia is not accessible if you've made further modifications. Remove the custom ad blocker rule(s) and the page will load as expected.