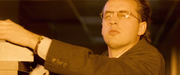 Volker Engel is a German born, American visual effects supervisor who is best known as one of the people who won at the 69th Academy Awards for Best Visual Effects for the film Independence Day. He has a cameo in Independence Day as the man in the Los Angeles office building that was destroyed.
External links
Edit
Ad blocker interference detected!
Wikia is a free-to-use site that makes money from advertising. We have a modified experience for viewers using ad blockers

Wikia is not accessible if you've made further modifications. Remove the custom ad blocker rule(s) and the page will load as expected.